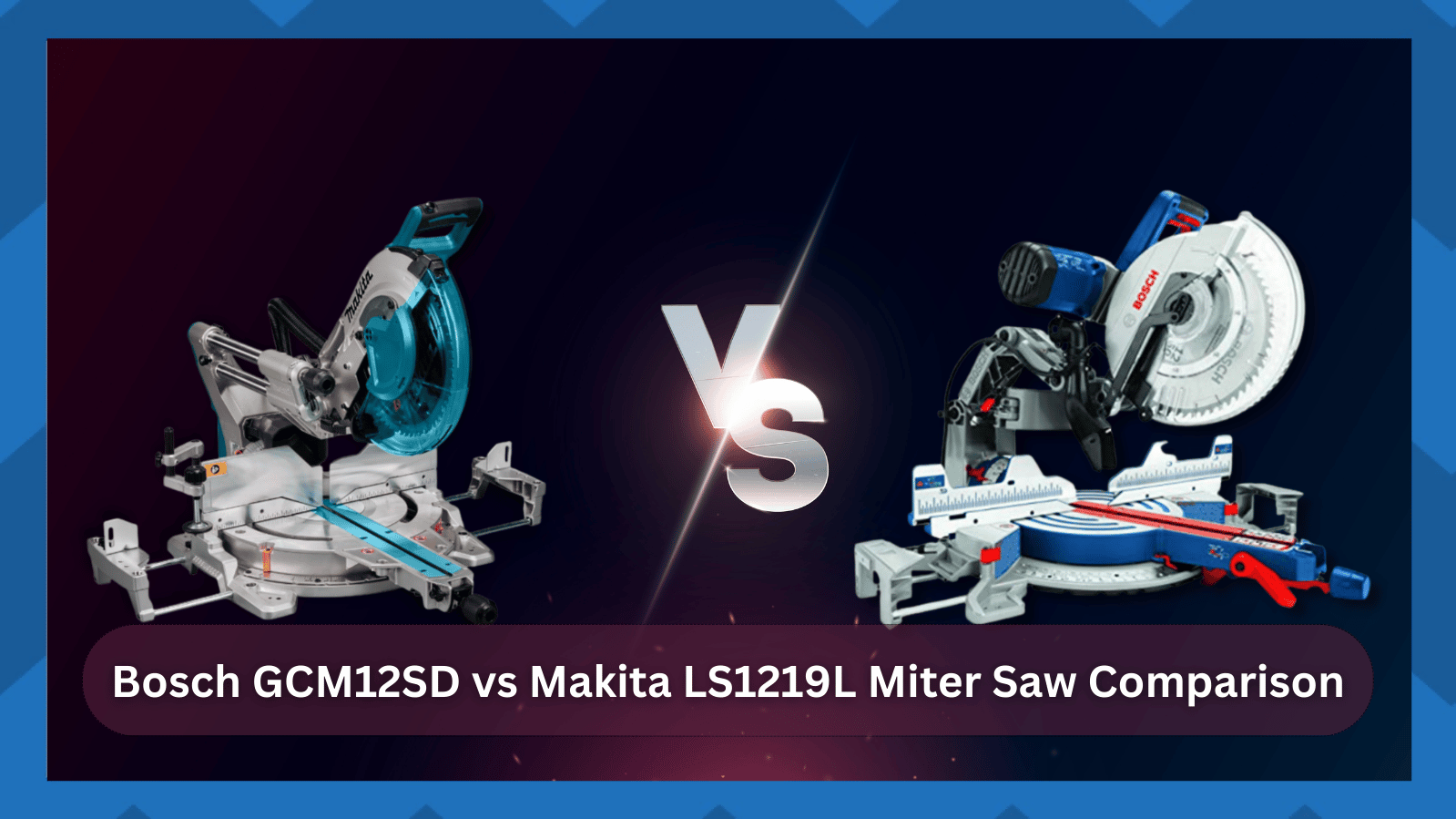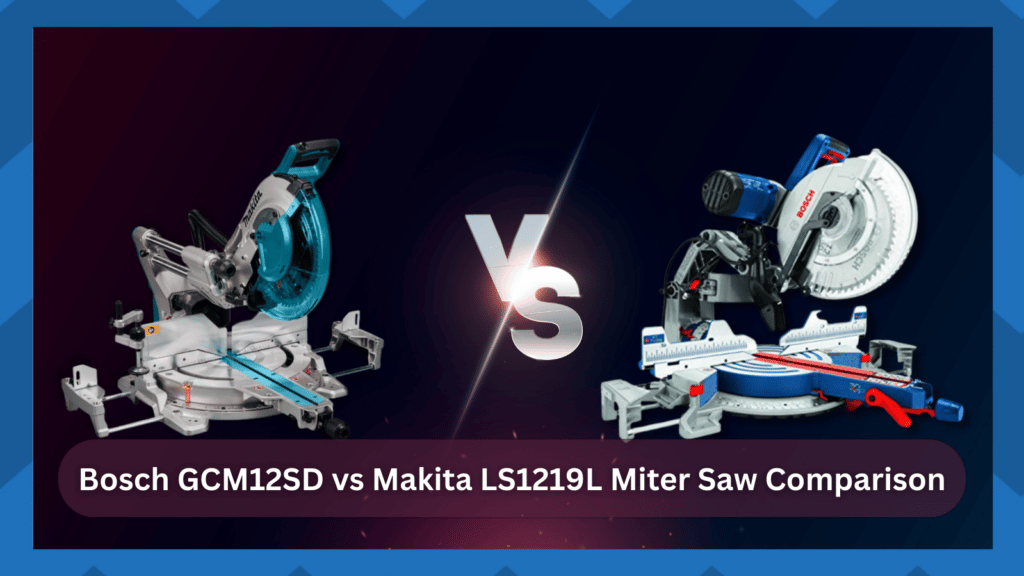 Cutting durable materials can be quite difficult if you are using a standard saw. The time taken to slice through thick wooden beams is not the only problem that you will run into.
This is because people have to ensure that they stay at an angle consistently throughout the cut. 
Without this, the edges will not be smooth, and there can be tons of further issues that you might run into. Considering this, companies have started manufacturing different types of saws that can be used instead.
These power tools come with tons of additional features that help in avoiding most problems. Two of the best devices that you can purchase are Bosch GCM12SD and Makita LS1219L.
Both of these are amazing but there are also some similarities between them. 
This is why tons of people can get confused between the two power tools.
Keeping this in mind, we will be using this article to provide you with a comparison that should help you in selecting a device that best suits your usage.
Bosch GCM12SD vs Makita LS1219L Miter Saw Comparison
| | | |
| --- | --- | --- |
| Specifics | Bosch GCM12SD | Makita LS1219L  |
| Color | Blue | Silver |
| Operating Voltage | 120 | 240 |
| RPMs (Without Load) | 3800 | 3200 |
| Laser | No | Yes |
When you're browsing through the portfolio of some of the best brands like Bosch and Makita, the GCM12SD and the LS1219L will always stand out.
This is considered one of the best setups on the market that will serve you well as you're trying to maximize performance from your tools. 
However, you will still find some owners struggling to find the perfect fit between these two options. Most of the time, the Bosch system is the preferred option for most beginners.
This preference will not stem from a better performance of the Bosch system.
Instead, owners are happier with this system because of the better price tag.
While there is no debate that the budget is one of the most crucial things when purchasing these items, it shouldn't be the only concern. So, you will have to check up on the performance accordingly.
Going with the Bosch system over the Makita option is better when you're planning on working with lighter material, and the workload is pretty manageable.
So, if you're just starting out or need to save on a bit of cash, try going with the Bosch system over the Makita. 
On the other hand, if you are more interested in a system with high torque, then going with Makita is the better option.
You will find that there are a ton of owners behind this brand, and it will serve you perfectly for more demanding projects. 
The RPMs on this unit might be low, but these low RPMs bring a better and more robust performance from the system. So, you will be sorted out with the ideal quality and won't feel the need to switch to any other option. 
The Bosch system might provide you with reduced performance or limited utility. The efficiency of this system will be amazing as the high RPMs will help you cut through lighter materials like butter.
However, these high RPMs will only complicate things when the material is tough. 
So, there is no such thing as the perfect fit for every situation. The Bosch GCM12SD will always be better when working with lighter material. It demands less voltage and brings higher RPMs to increase the efficiency of your project.
On the other hand, if you decide to go with the Makita LS1219L, it will help you stick through more demanding projects. You will not feel the need to rely on any other option when the material is through.
Moreover, it is more robust and heavier when compared to the 65-pound weight offered by Bosch. 
Bosch GCM12SD
The Bosch GCM12SD is one of the best miter saws available on the market. Before comparing the device with the Makita power tool, you should understand what the features of this device are.
The first thing that people notice about Bosch GCM12SD is its low price. 
This makes it quite affordable for people on a tighter budget. Having a low price usually means that there are fewer features on the device, but you will notice that this is not the case.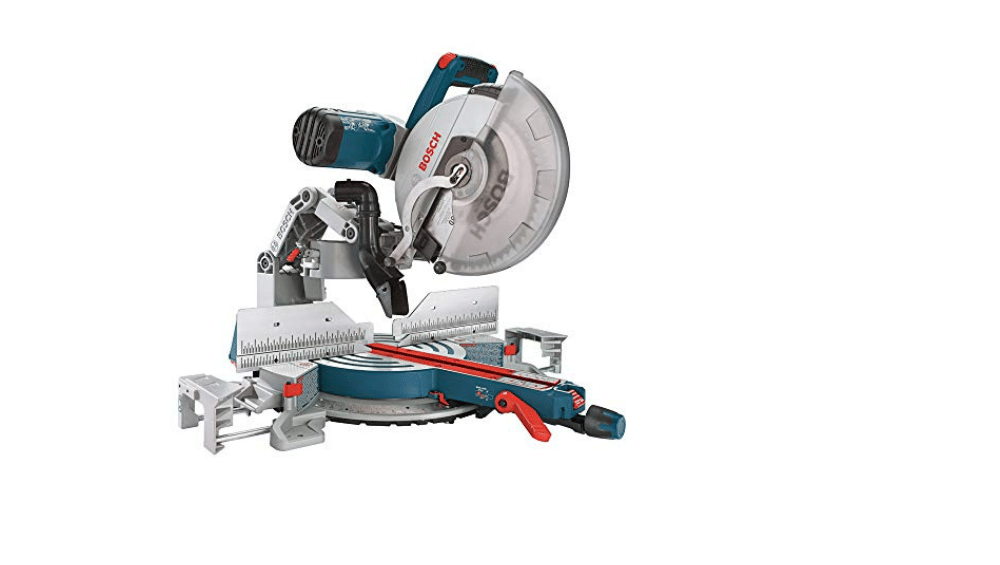 The miter saw is made using high-quality materials, which makes it quite durable. Additionally, the device comes with a small dust collector that catches all the wood chips when slicing through materials. 
This helps in keeping your workshop clean and lets people complete their projects without any hassle. The device also has two safety switches on it that are easily accessible.
Both of these are installed in different spots that people can reach out to easily in case of an emergency. The button will stop the blades instantly, which is quite amazing. 
The handles on this miter saw allow for dual handling, which means that you can easily access them, no matter whether you are right-handed or left-handed. With that being said, there are also some downsides to the Bosch GCM12SD.
One common complaint that people have is that there are no LED lights on the device. Additionally, the device has to be adjusted before you can start using it.
Luckily, configuring the miter saw is a one-time thing, as you can then start using it without any additional setup.
The device also falls under the category of heavier saws, even though it is much more compact and lighter in weight when compared with Makita LS1219L.
So, if you're aiming for a lighter setup that offers more RPMs, then going with Bosch is better. It is pretty affordable and will suit you well if you're just starting out. 
Makita LS1219L
The Makita LS1219L is another famous miter saw that you will notice people purchasing. This comes with tons of features that ensure you can work on your projects without any worries.
Although, when comparing this with the Bosch saw, you will notice that Makita has a considerably higher price. This is because the Makita LS1219L is a larger miter saw that has to be fixed in place.
The high weight of this device prevents people from moving it around. Although, this also makes the miter saw much more durable. 
Even if you are slicing through thick and hard materials, the device will remain stable, allowing you to easily slice through them. Makita LS1219L also comes with a LED light that guides people when making difficult cuts.
This can be quite helpful as you know exactly where the cut is going to be. The blade-changing process is also simple as you can do it within seconds. 
This can be quite helpful as people don't have to take their entire device apart in case they want to change the blade. Adjusting the height and width of the miter saw is also quite easy, as the company has implemented small fences that can be taken off.
The only major downsides to the Makita LS1219L are its high price and bulky build. The device takes up a lot of space which is why it best suits people that have a large enough workspace.
Both of these miter saws are amazing but selecting one of them depends on the user's personal preferences.
If for some reason you're still not sure about the best pick for your workshop, then we will say that you ask the local experts.
You can just rely on the professionals or the owners working in your neighborhood. They will improve your perspective on the purchase. 
Lastly, getting help from the dealer is not a bad idea either. You can just explain your end, and then have the dealer guide you through the rest. He will make your life much easier as you list down your requirements.
From there, he will also help you with a list of other compatible options.
Wrapping Up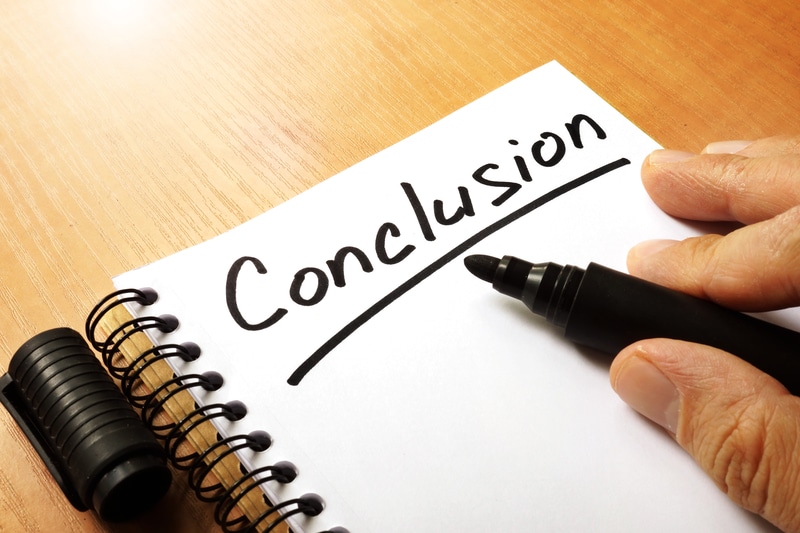 We have all been confused when picking up our first miter saw, and that is especially true when you're stuck between Bosch GCM12sd and the Makita ls1216l.
Both of these options have been dominating the market, and there are thousands of owners behind both options.
When it comes to Makita, the performance has been phenomenal. You will find this brand to be the better pick when you're aiming for a more demanding and robust system.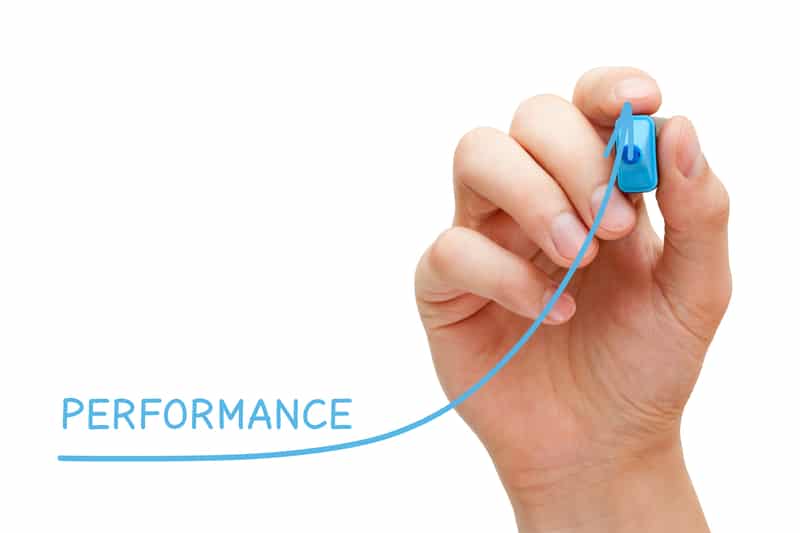 It will help you get through thicker material with a robust torque. So you will not have to worry about damaging the saw.
The only thing that you will have to focus on is the feeding technique. If you feed the material quickly, this saw will also malfunction. So, it all boils down to your pace and technique.
Slowing down a bit will serve you well in the long run, and you will not feel the need to switch. 
With that said, going with Bosch also brings some benefits. These benefits include a more efficient and lighter system, better pricing, and easy installation.
However, a huge downside here is that you will not get any laser system. So, the precision side of things will get compromised when sticking with this unit.