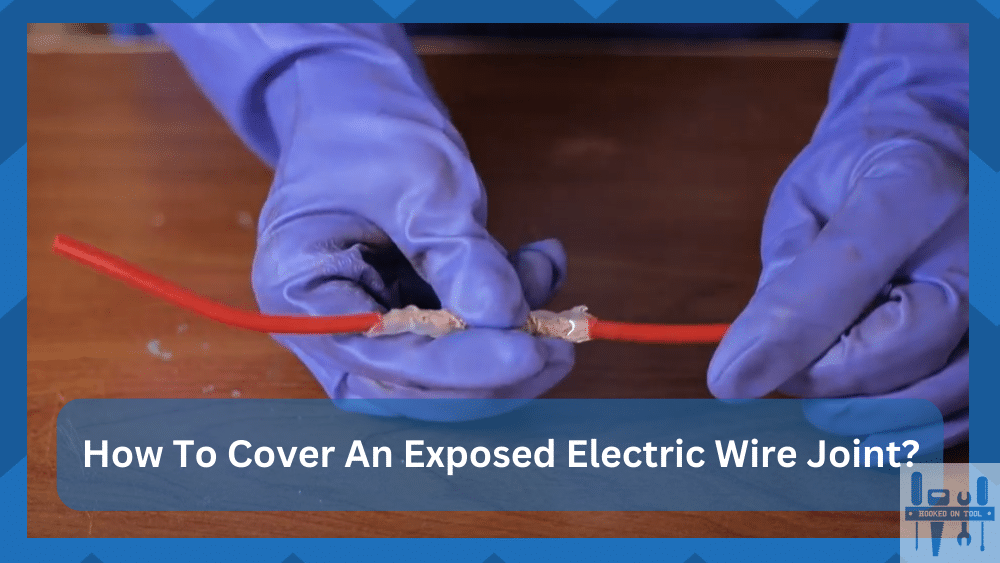 The strength of a wire joint is only as good as how you secure it. It took me a while to realize that the game doesn't end at just entangling the wires and wrapping the strands around each other. Instead, it is best to cover up the exposed section with some material.
This additional layer of coating makes the joint much stronger, and you don't have to worry as much about spilling anything on the exposed section. I am not saying that you can go ahead and put the wire joint in water, but having more material to cover the joint will have you sorted out. 
It's not about how much material you use up to cover the wire joint, and it's more about how you cover each section to leave nothing exposed. So, it is best to experiment a bit with some old wires if you wish to perfect your technique on how to secure a super strong wire joint.
How To Cover An Exposed Electric Wire Joint?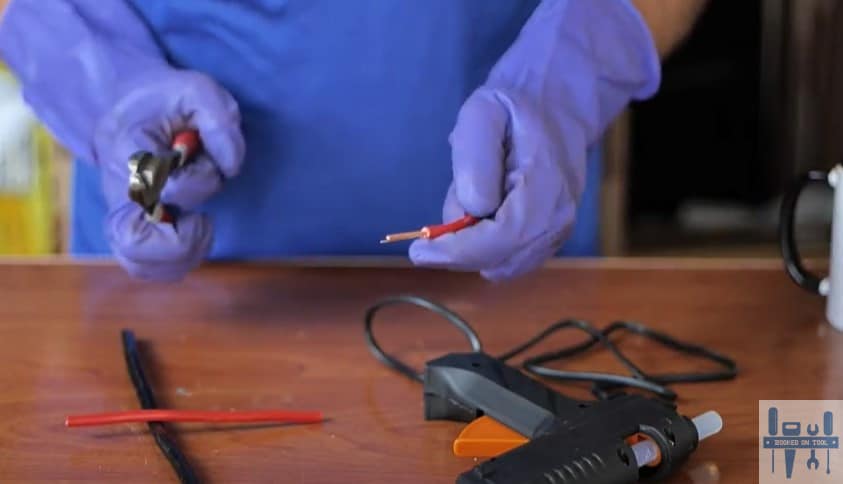 There are a number of ways that you can secure a super strong wire joint, but I personally stick with some electrical tape or a glue gun to get through my projects. These methods give me more control while limiting the hassle at the same time.
Materials Required
Electrical Tape
Glue Gun
Glue Tube
Safety
You don't need any special equipment when working with the electrical tape, but it will serve you well to stick with robust hand and feet protection when working with a glue gun. Believe me, the last thing that you want here is to get hot glue on your fingers or toes.
Method 1 — Using Electrical Tape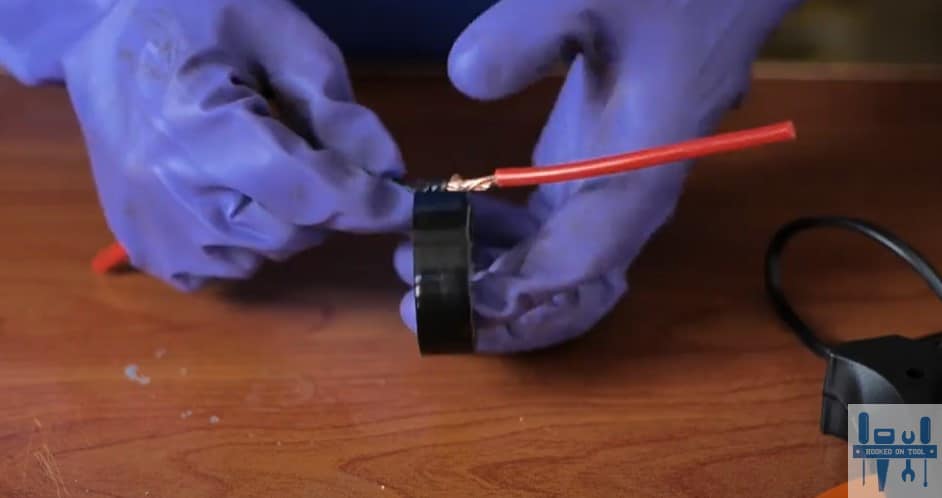 You don't really need years of professional experience to use an electrical tape. All that you gotta do is to cinch down on the wire strands one more time with the pliers and then grab your electrical tape to wrap it around the exposed sections.
You can simply start from one end and then start wrapping it around the exposed section. Make sure that you're not working with live wires here, and it is always a good option to stick with a set of rubber gloves. Hopefully, that will keep you from electrocuting yourself. 
The only point of focus here is to cover up the exposed sections. You can also add multiple layers to further add to the integrity of the wire joint. However, you gotta keep in mind that using electrical tape is not always the best idea.
Over the long run, this tape can get loose or tear up to expose the wire beneath. So, if you're looking for a more robust method, then using electrical tape might not be that good of an option. This method is only suitable for people that need to cover up wiring in isolated regions. 
You can make the best decision for yourself here, and there is no set rule for the best method for different projects. So, be sure to experiment with different methods to improve your experience as a DIY'er and a workman.
Personally, the electrical tape is more than enough for my projects, and I don't need any other method to secure my wire joints. So, if you're also a casual DIY'er, just get some electrical tape and experiment on a few projects. Most often than not, you won't need to switch over to any other method. 
Method 2 — Using A Glue Gun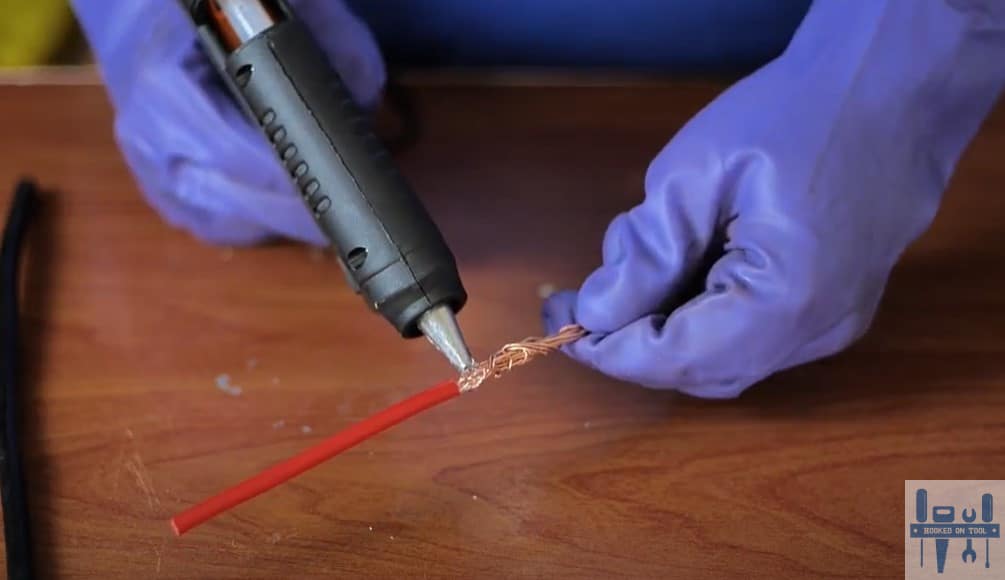 You'll find that most experts recommend the Glue Gun method, but it can get a bit messy. I hate it when anything sticks on my workbench, and I am confident that you're not a fan of it, either. So, if you don't explicitly need to work with Glue Gun, just use some electrical tape.
With that out of the way, a Glue Gun can surely be effective when you're short on time. You can simply heat up a glue gun after putting it in the tube and then put a thick layer of glue around the exposed sections. You need to also cover some of the covered parts here for a better grip.
All that you're trying to do here is make sure that the exposed sections are covered evenly by a thick layer of glue from all sides. This will ensure that the wire joints remain super strong in the long run without any rusting or pressure issues. 
The good thing here is that the glue will cool down quickly, and it will not be a hassle to dry it out. At the same time, if you get this glue on your bench, it will create more hassle when you have to scrape it down. So, have that in mind when you're stuck with the glue gun.
Lastly, you can also double up the layers by adding in the glue and then covering that up with electrical tape. Yes, it might bulk up the wires, but you'll surely get more strength out of the wire joint. So, don't hesitate to test that out, either.
Alternative Methods 
Now, the methods mentioned here are great, but you will still need a few more options if you're working professionally. These options include some PVC pipes, electrical boxes, and even molding. The best method that I've found between these three methods is molding.
You can be pretty free when using molding around the exposed wires, and you can also paint over it. It won't take you more than a few seconds to mold the material around the exposed wires. Moreover, this putty-like material is pretty easy to remove if it sticks to your workbench.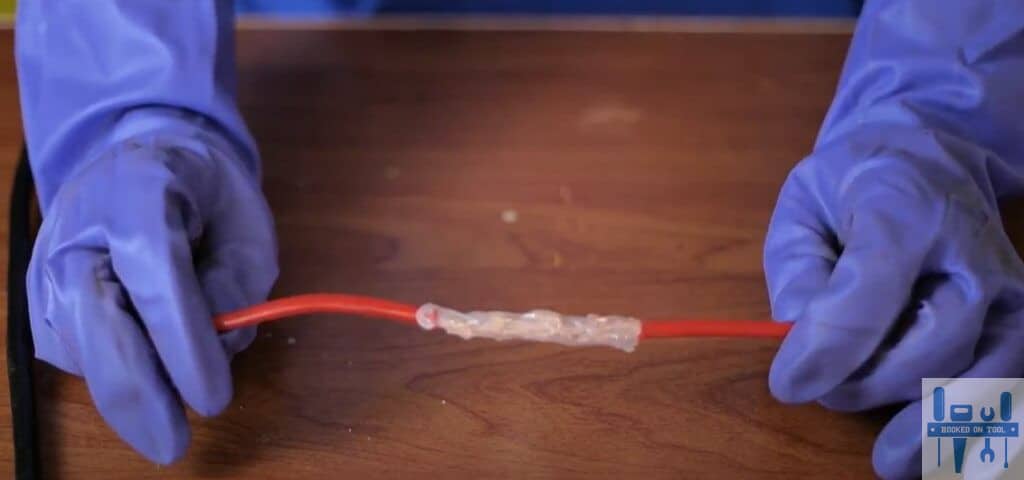 As far as the integrity is concerned, nothing can beat PVC pipes. These pipes will keep the wiring secure in the long run, and you won't have to worry about any excessive pressure. The PVC pipe will take care of the load for the most part, and you'll be sorted out with the ideal performance. 
Lastly, if you're unsure about what method to use when securing a super-strong electric wire joint, then I'll suggest that you reach out to the locals. Just get more details from your local experts, and they will be pretty willing to make your life easier. Hopefully, you won't have to go through more hassle!
Note: I am pretty sure that 90 percent of you will only stick with the electrical tape to secure your wire joints, and I'll suggest that you add multiple layers to the wire joints. If the wire has some wiggle room or the extension will move about, then you'll need to limit its movement.
Otherwise, the layers will just unravel over time, and the wire joint will be exposed to humidity and moisture. So, keep that in mind if you're also planning on working with electrical tape and are not that sure about spending time on any other method.
The Takeaway
Covering up exposed sections for super strong wire joints is just as important, and you can't really skip this step. Many beginners think that just entangling the wires and cinching them down would be rough. However, you will need to put more thought into managing the wire connections.
Yes, entangling the wire strands is necessary and an integral part of any DIY project. However, the exposure to dust and humidity won't do you any good in the long run. So, if you're new to the game, just focus on covering up the exposed sections. 
For the most part, sticking with the electrical tape and some glue is enough. However, there are other "more professional" methods, like using an electrical box or some PVC pipes to cover up the exposed sections. So, go crazy with these methods as well if you're just experimenting.
On a last note, I'll suggest that you spend some time with your local experts. If you keep messing up or want to improve your understanding of the game, then it is best to stick with the experts. They will let you in on a ton of secrets, and you won't have to worry as much about messing up!