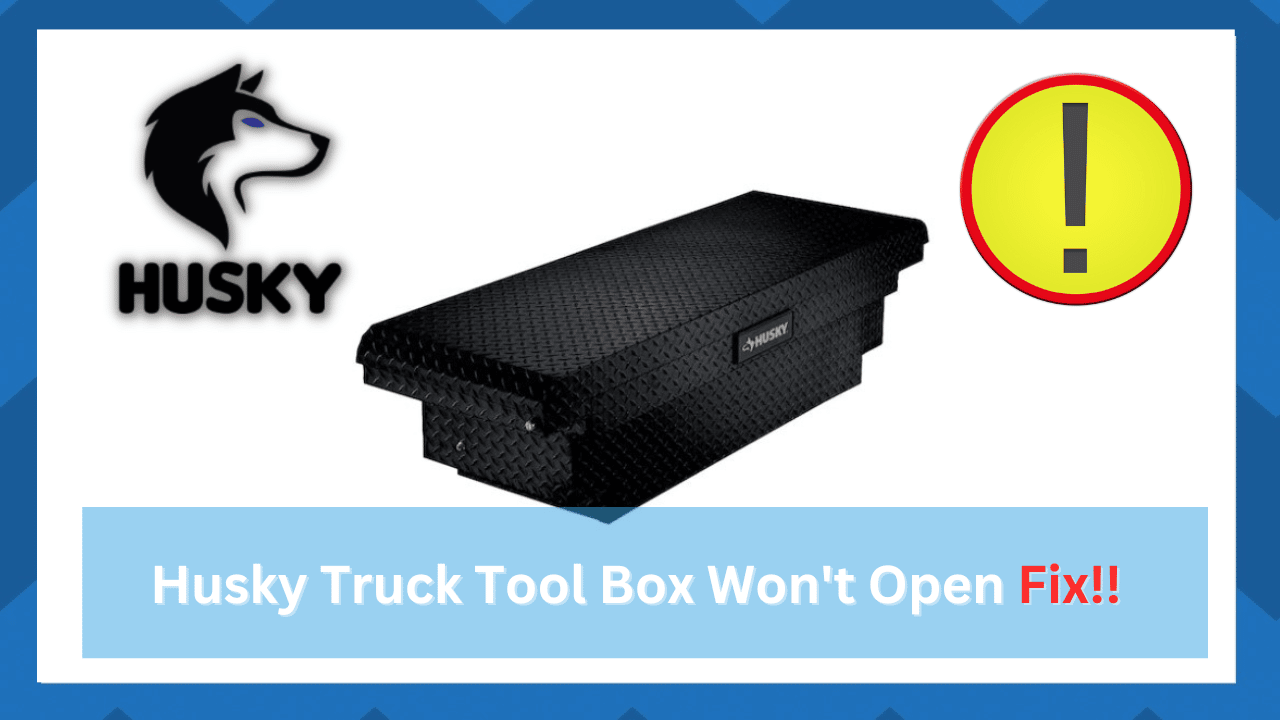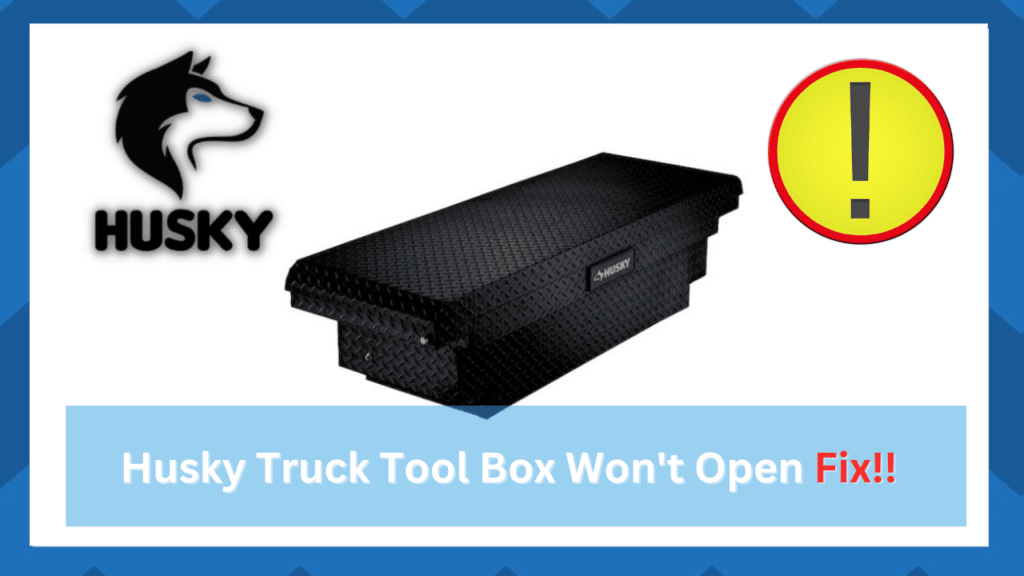 While cars are great vehicles for transport, not everyone enjoys driving them. This is because if you are someone who wants to carry a lot of luggage or equipment with you, then storing all of this in your car can be difficult.
This is why many users purchase trucks instead that come with a lot of cargo space. With that being said, you should note that most trucks have open storage in them.
This is why Husky has come up with a toolbox that can be installed on the back of your vehicle. The devices allow you to store all of your valuable tools in a small compartment that is tightly closed.
Although, one issue that many people have reported getting on the Husky truck toolbox is that it won't open. If you are having the same problem, then here are some simple steps that you can try to fix.
How to Fix Husky Truck Tool Box Won't Open?
Lubricate the Lock
The most common problem that you can get on this toolbox is that the lock on it won't open. You can try twisting the key but applying too much pressure has a chance of breaking it.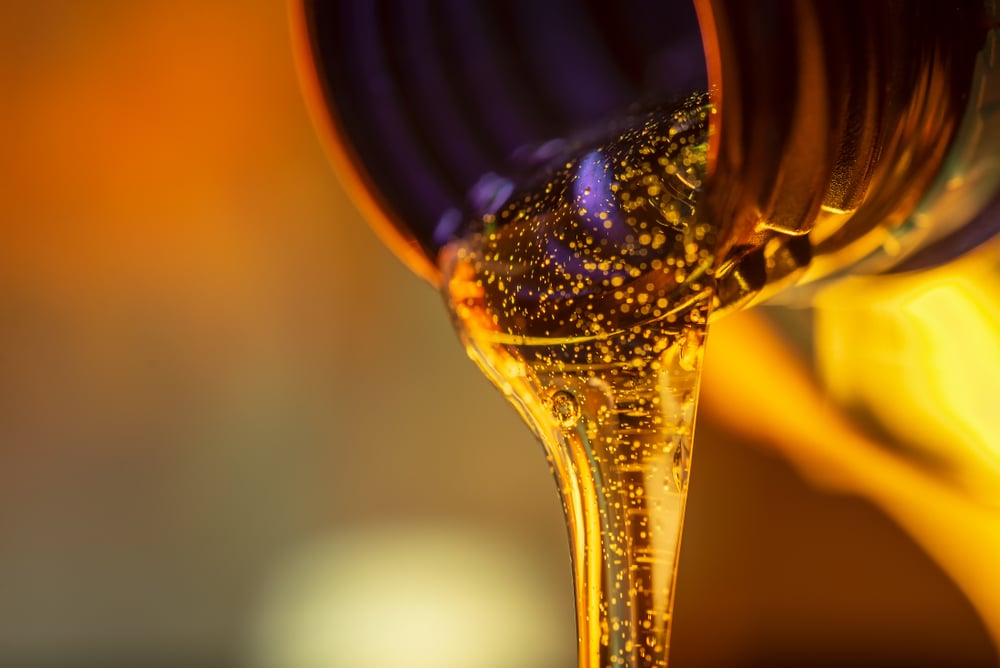 Talking about this, the main reason why you get this issue is if the internal parts of the lock have either jammed or gotten clogged with rust. This can be quite annoying, but the problem can easily be solved by applying some lubricant.
WD 40 is one of the best lubricants, which also acts as a rust prevention solution that you can apply inside your lock. Although, keep in mind that this product is not necessary, and you can try any oil or lubrication if you do not have access to it.
Wait for a few minutes after putting in the oil, and then try twisting your keys. The lock should now open without any further problems.
Drilling Out Rivets
If your lock is still not opening, then there is a high chance that the internal gears of the device have completely worn out. In this case, there is no way to fix the lock, and you will have to replace it with a new one.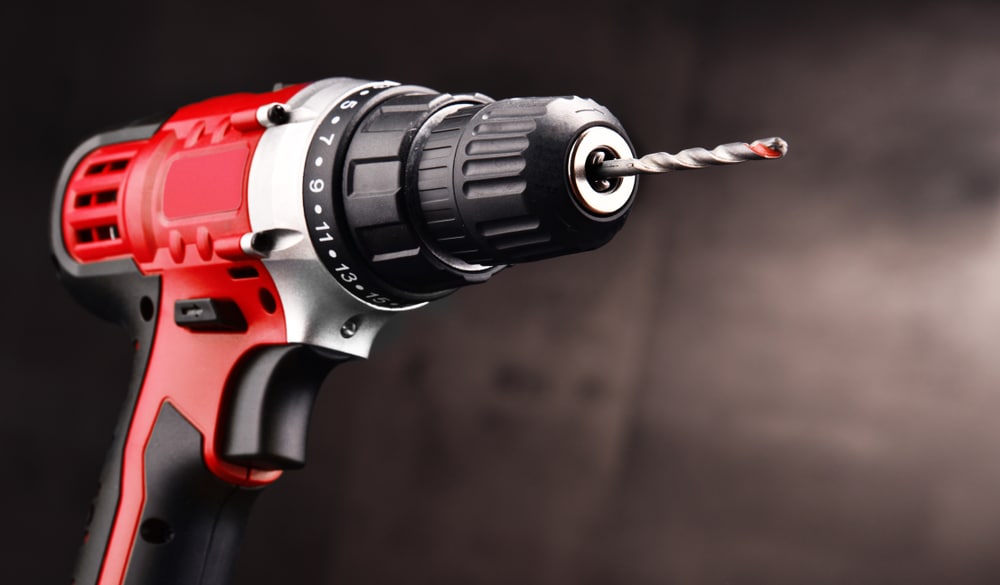 Luckily, you can open your toolbox easily by taking out the rivets from it. This will require a power drill as the rivets are tightly locked in. Once you open up the toolbox and replace the lock on it, your device should start working again.
Contact An Expert
Finally, another solution is that you contact a locksmith to fix your toolbox. Keep in mind that they will do the same job listed above. Although, some users would not want to do this on their own. This is why they should contact a specialist instead.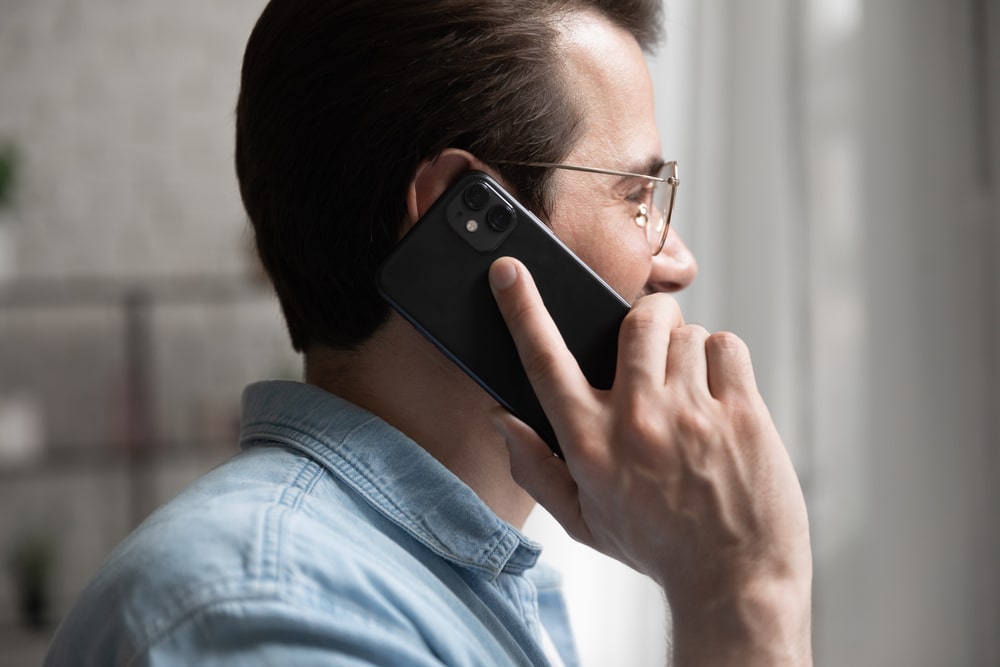 You should keep in mind that the locksmith will charge you for the new parts as well as labor. This is why it is mostly much better that you fix the device on your own. However, not everyone has an electrical drill lying in their homes.
Check Drawers
Here, you need to check the condition of the drawers to isolate the errors. You won't be able to open the toolbox when the drawers are not engaged properly.
Sometimes, all it takes is a bit of adjustment. So, make sure that the drawers are in the proper place.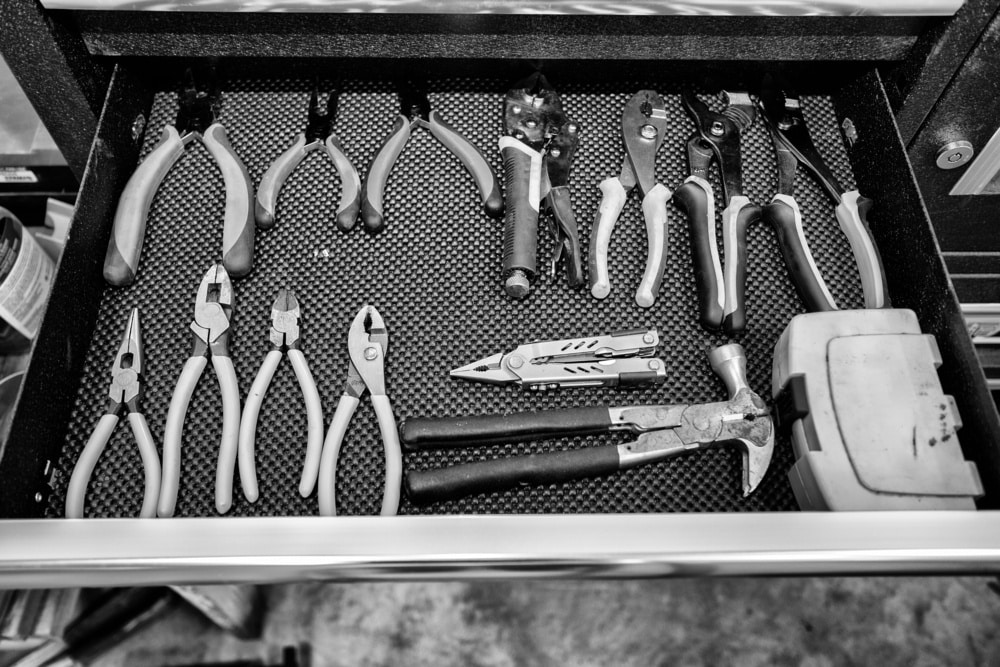 From there, you can try to open up the lock one more time. If there are no bent sections and the lock is in good shape, you should be able to open up the toolbox right here. There is no point in forcing your way into the toolbox.
So, if it takes too much power, you are doing something wrong. Make sure to be gentle, or you might end up further damaging the device. Hopefully, you won't have to worry about anything after adjusting the drawers.
Check For Bent Sections
If you're unlucky and the condition of the unit is a bit rough, then you will have to check for bent sections. You won't be able to fix the toolbox if it is actually bent. You might just have to claim the warranty here, and there is no point in wasting your time.
So, just reach out to the dealer, and have him provide you with a replacement. He will verify your purchase and delivery a new piece within the same week.
However, if you don't have a valid warranty, then there is no harm in trying to hammer the toolbox into place.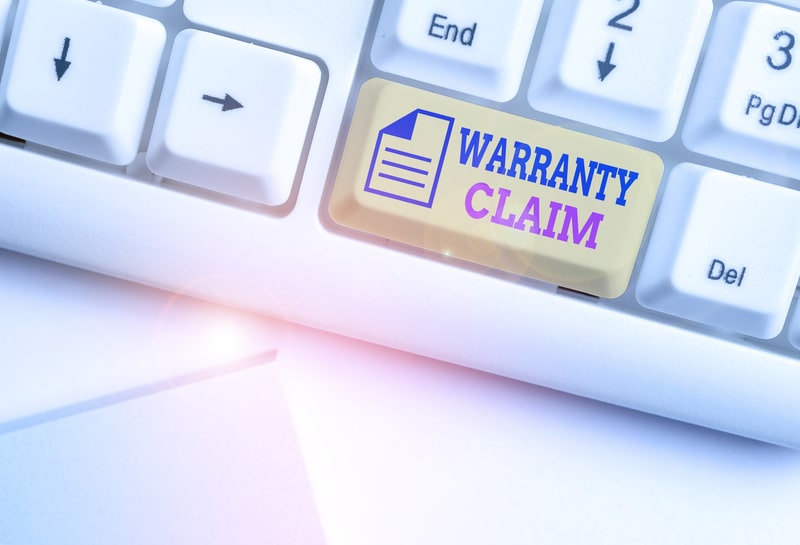 Make sure that all the drawers get engaged after you're done hammering the box. From there, it is pretty easy to open or close the toolbox if the lock is not completely jammed. It all comes down to the condition of the toolbox.
Try Shaking The Box
If none of the above-mentioned fixes match your situation, and you're sure that the toolbox is in good shape, try shaking it around. This might seem like a basic fix, but there is a good chance that something is blocking the lock from disengaging.
So, if your toolbox is a bit messy and you're not using any holders, then you need to shake it through. You will have to give this box a good shape as it can take a while to remove the jammed tools.
After shaking the box, you can try to open it one more try. That will be your last shot at fixing these issues with the toolbox. Otherwise, you will have to spend your cash on a fresh piece.  This is especially true if you're not sitting on a valid warranty.
Call Customer Care
The fixes can vary a great deal depending upon the system you're using for your tools. So, if you want to avoid all of this hassle, just reach out to the official support. They will be more than happy to go over the condition and guide you through the fix.
The downside here is that it can take a few days for the customer care members to respond. However, you can always reach out using their official number during working hours.
Just focus on explaining the errors with your machine, and they will guide you through relevant fixes. Ideally, it won't take more than a few minutes to get through these issues if the device is in good shape.
How Does It Compare To A Craftsman Toolbox?
The Craftsman toolbox can be considered the closest alternative to the Husky system. These two brands have been long in the market with exceptional units at an affordable price range.
However, the Craftsman units are not that well defined when compared with Husky.
So, if you want to go with Craftsman next, that might not be the best option. Jamming issues are common for all toolboxes if you don't keep track of their mainline. This doesn't mean that the Husky brand is to blame here.
Instead, you need to focus more on optimizing the storage conditions and keeping track of unit maintenance. A few minutes of your time each week will keep the unit free from rust.
Moreover, keeping the tools organized will avoid internal damage to the toolbox.
With that said, some Craftsman models are superior to Husky. It all comes down to your requirements, and there is no harm in testing out both brands. You never know that you might like Craftsman better than Husky boxes.
Wrapping Up
These were some of the more common fixes that owners have used to get their toolbox unlocked. So, if you're in a situation where the Husky toolbox won't open, just rely on these solutions.
Ideally, it will take less than a few minutes to get through the maintenance.
However, if the toolbox is damaged, you will have to leave this job to the professionals.
There is no point in wasting your hours trying to fix a damaged toolbox. You won't have much success in this department, and the dealer support will guide you perfectly on how to best manage your toolbox.
With that said, if you're not a fan of Husky tools, try going with Craftsman for your next project.
These might not be better than the Husky toolboxes, but some owners have had a great experience with this brand. So, there is no harm in exploring your options.
Just keep track of the maintenance, and you'll be all set!