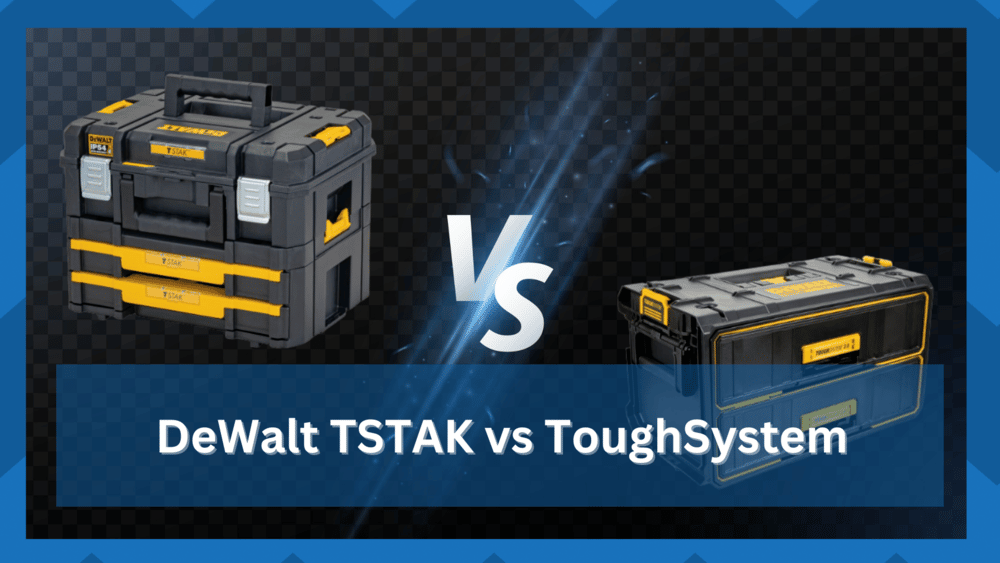 DeWalt is the one-stop-shop for all the handymen and all such skilled professionals who need to make the right choice for the tools that they might be needed for the next job that they could be planning for.
DeWalt allows you to enjoy a certain perfection on power and accuracy, and you will never have to be looking elsewhere for any such needs that you might have.
Not only are they manufacturing great tools that will allow you to have just the perfect experience with them. DeWalt allows you to be enjoying the right perfection with the portability of all their cordless tools at the same time.
Not only do you get portable and cordless tools from DeWalt, but there are also some portability solutions that you will be getting to make it certain that you are transporting the tools safely and in a secure manner to get the right perfection at the same time. 
Yet, there might be certain elements that you need to consider, and with multiple options from DeWalt that you can possibly get, here are a few options for you to choose from the DeWalt inventory, depending on your needs.
DeWalt TSTAK vs ToughSystem Comparison
| | | |
| --- | --- | --- |
| Specifics | DeWalt TSTAK | ToughSystem |
| Load Capacity | 30 KG | 50 KG |
| Durability | Moderate | Robust |
| Lockable | Yes | Yes |
| Structure | 2.5mm Polypropylene | 4mm Reinforced Body |
The ideal unit for you can vary depending upon the projects and the working conditions that you have to follow through each year. Most of the time, you will find that beginners start out with the TSTAK system.
It is more compact and offers a reasonable level of durability to the owners.
When compared with the ToughSystem, you will be losing a good chunk of load capacity and durability.
Moreover, the structure is also a bit lighter when you're dealing with DeWalt. So, be sure to keep that in mind when you're trying to finalize the purchase between these two options.
To make the right decision, you should first ask yourself about the possible use cases. If you need a more robust unit to last you through demanding projects and rougher conditions, then going with the ToughSystem is a good idea. 
On the other hand, if you're looking for a compact unit that brings a better design to the workshop, then going with the TSTAK unit is not a bad idea. It all comes down to how you're planning on adjusting the situation with the load capacity.
Going with either one of these units will serve you well, and you will find that the ToughSystem is the top priority for all experts.
All professionals will eventually shift over to this unit because of its lifespan and durability. So, if you're planning an upgrade and don't want a compact unit, then try out ToughSystem.
On the other hand, if you're not that sure about the price tag and just need a system that can last you through some causal projects, then DeWalt is the option for you.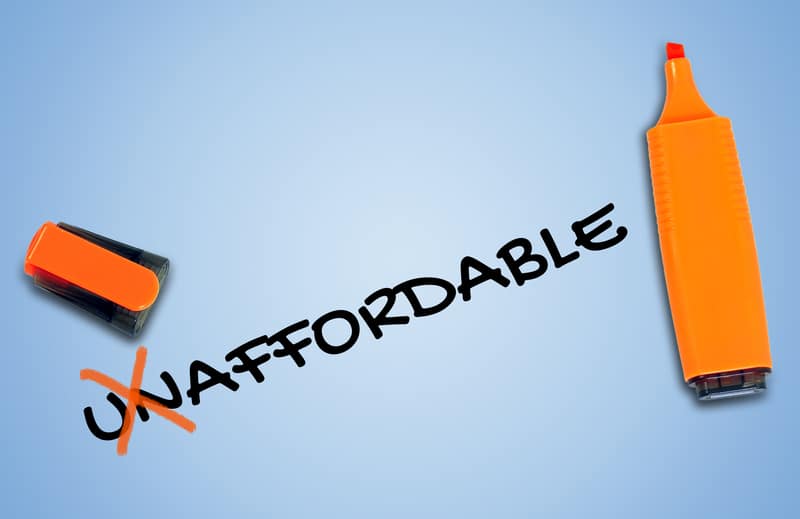 This does not mean that DeWalt offers poor build quality. Instead, ToughSystem focuses more on making its unit exceptional.
However, when you look at value for money, DeWalt will always dominate this segment. You will find that almost all of the users prefer to go with DeWalt when first developing their setup.
So, if you want to hold onto the cash, then trying out DeWalt is not a bad idea.
Hopefully, you will have a clearer perspective on which unit to choose for your next project and won't feel the need to change for decades. Here are some more details on both of these options to help you find the right fit. 
DeWalt TSTAK
TSTAK is a series of portable storage systems from DeWalt that is manufactured out of the enforced polymer, and you will be easily able to make it work for all the needs that you might have. 
The best thing is that you get a wide range of sizes and shapes, ranging from clipboard storage and mobile cooler to a number of drawers, cabinets, and storage boxes that you will be able to use to store your essentials to keep them safe at the construction and other job sites.
Still, in addition to all that, these will also allow you to have the perfection of having the right edge of safety as well as convenience.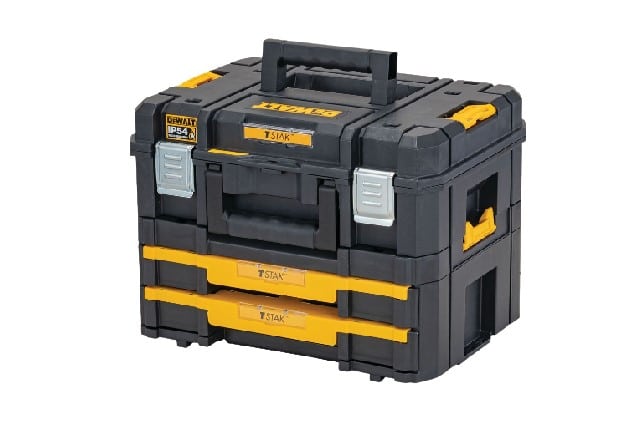 These boxes do come with handles to ensure that you can easily carry them around the construction sites, and not only that but there are also a number of separators and fittings inside them to make sure that you can store the equipment and tools safely.
They will not be moving around while you are transporting them. In addition to all that, you will also be able to enjoy the convenience of managing your tools and other equipment in a precise manner at the same time. 
With these, you have the liberty to choose the container of your choice that you will need to make sure that you are not missing out on anything while you are using these to make it work.
All in all, you can think of this as a more convenient and easy-to-handle system that will serve you for years.
It might not have as much load capacity, but the 30 KG limit is more than enough for most owners. So, if you have a smaller kit, be sure to stick with this option.
On the other hand, if you're planning on upgrading to a more robust unit, then you should consider the ToughSystem. Here are more details on this system. 
DeWalt ToughSystem
While TSKTAK is the customized toolboxes that you can use for a number of different applications, and you can use these for carrying out a tool or two to the job sites or from one place to another, the Tough system is a whole other story.
It is designed to meet the needs of professionals.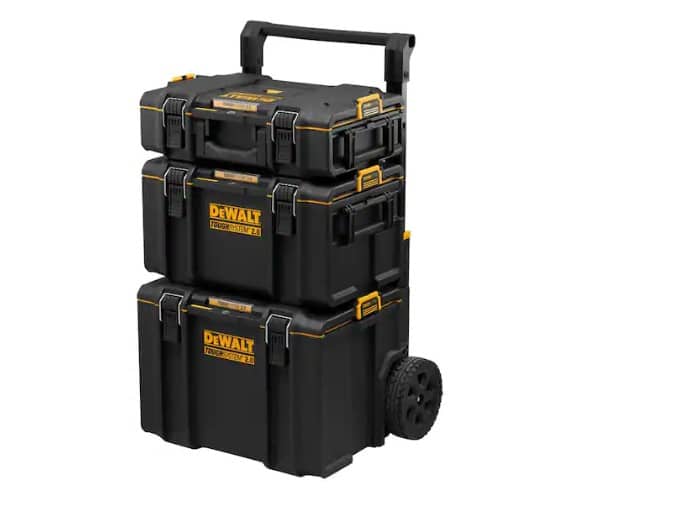 With all that being said, the Tough system is a combination of several full-size boxes that are designed to endure any conditions that you might put them through, and you will be able to use it for a wide range of storage and transportation needs.
These boxes are simply the best that you can get to enjoy perfection since they get rugged wheels and a long handle, so you can easily transport them around rougher terrains for sure, and you will not have to worry about a single thing at all.
A tough system can be used with a single box, or you can also stack multiple boxes together.
These multiple boxes are also locked together, so they don't bump together or just fall over, and that ensures you the right perfection.
These boxes are designed to be fully water and dustproof, but that is not all, but you will also be getting the right edge of durability and protection with these being shockproof as well, and you don't have to worry about a single thing.
These tough system boxes have ample space in them for you to carry all the tools that you might be needed for a job at once, and that should be the best thing for you to have.
It is one of the best systems on the market within this price range. So, if you're talking about the best value for the money spent on a larger system, then going with the ToughSystem is not a bad idea. Hopefully, you will not feel the need to upgrade for years to come.
You can also ask local experts to point you in the right direction if you're still confused. They will help you figure out the best fit for you, and you won't have to worry about going over the budget with the ToughSystem that way.
Wrapping Up
Both the TSTAK unit and the ToughSystem from DeWalt have dominated the market for years.
You can think of the TSTAK as the starter option with lesser load capacity and durability. However, that doesn't mean that the TSTAK unit is inferior to the other options in the same price range.
You will find that the TSTAK unit is more popular because of its price tag and the basic demand where first-time owners are not looking for a robust unit.
So, if you're also in the market for some cheaper options, going with TSTAK over other items is not that bad of an idea.
On the other hand, if you've been meaning to upgrade the storage system for a while now and need something exceptional to help you last through rough weather and harsh conditions, then ToughSystem is for you.
It all comes down to your requirements, and you can't really go wrong with either one. 
If you are not that sure at this point, just get some pointers from the experts working at the support center. They will guide you better on which units to choose for your next project, and you will not have to go over the budget just to get a basic level of performance.