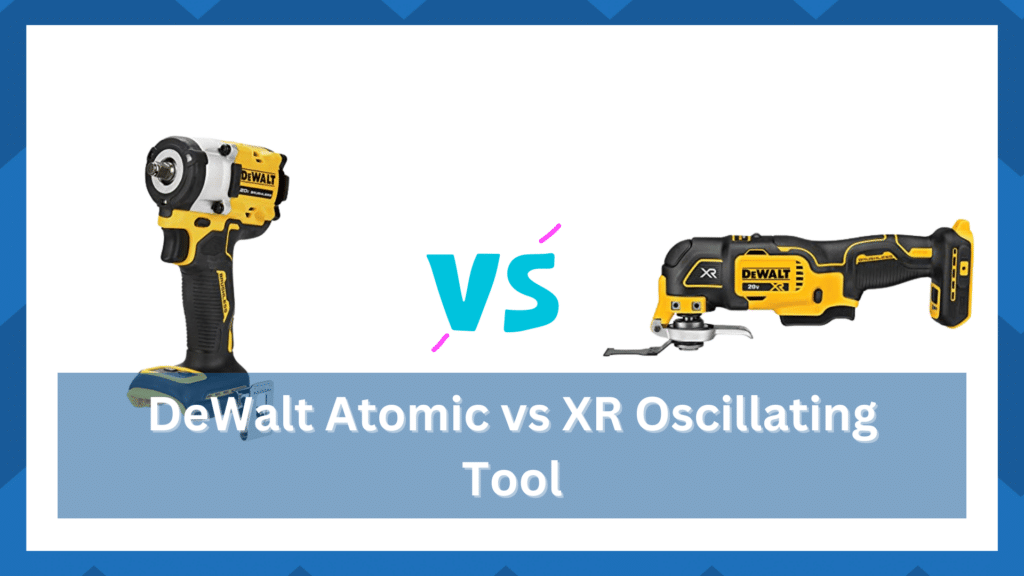 Power tools can help people in completing their projects quickly while also avoiding problems with them.
Although, the main issue with these tools is how dangerous they can be. Considering this, people must take out their time to learn how these tools can be handled.
In addition to helping them avoid problems, this also allows for considerably more productive work. Remember that some businesses concentrate on offering security measures that aid in avoiding problems with the equipment.
DeWalt is one of the top brands you can choose when it comes to this. There are several lines offered by the corporation, and each one includes a unique range of power tools.
In light of this, choosing which lineup to buy a gadget from is the first thing you need to do if you want to buy a DeWalt product.
DeWalt Atomic Oscillating Tool and DeWalt XR Oscillating Tool are both great options that you can go with. However, if you are confused between these two then going through this comparison should help you out.
DeWalt Atomic vs XR Oscillating Tool
| | | |
| --- | --- | --- |
| Specifics | DeWalt Atomic  | XR  |
| Size  | Compact | Moderate |
| Weight | Light | Moderate |
| Motor | Brushless | Brushless |
| Versatility | Extensive | Moderate |
Now, when you ask about the better fit between Atomic and XR, most experts will say that you can't go wrong with either one. So, we will follow through with the same statement and encourage you to go with the cheaper option
You have a right to be confused here as there are more similarities than differences between these brands. Yes, you won't realize any huge improvement in performance or power. The basic output and the design is the same with the XR and Atomic. 
With that out of the way, some people do say that Atomic is more versatile. This tool will be better suited for tighter spaces. You will be able to access more isolated regions when sticking with this model. Moreover, the lighter weight offered by this system will give you more control.
As long as you're a bit experienced, you will be able to get through your projects with ease. However, that doesn't mean that the XR system is bad. You will still get the same brushless motor. Still, the size and the white backed by the XR is a bit more. 
This doesn't mean that you will get a larger system that offers poor performance. Instead, the XR is better suited for more demanding jobs. If you're not that experienced, and need more power to get through a rough project, then going with the XR is a better idea.
Most of the time, everything will boil down to the money you're planning on spending on the final purchase. However, if you're only worried about being more stable, then XR is not that bad an idea.
Similarly, if you're only worried about more control and want to access isolated regions, then going with the Atomic option is a better idea.
So, be sure to consider your options accordingly and first list your requirements. That way, you will not have to worry about wasting your money.
DeWalt Atomic Oscillating Tool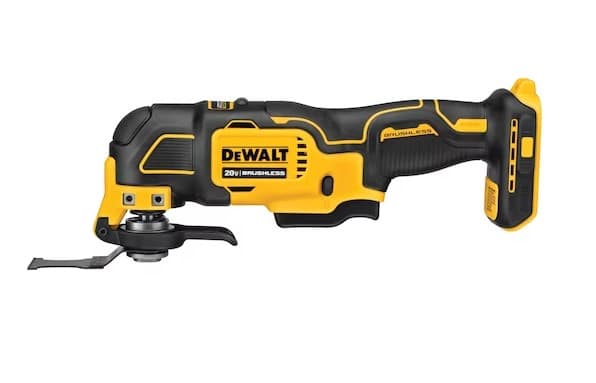 The Atomic lineup from DeWalt is one of the best series that people can go with. Keep in mind that these products are made for professionals instead of users purchasing devices for their homes.
This is because the atomic series focuses on delivering people with high power while also ensuring that the equipment is portable. This is done by using a brushless motor that can handle up to 20V or current.
This helps in delivering high power that produces RPMs that are unbelievable. 
The Oscillating Tool from this lineup allows people to perform various tasks using the tool. It comes with bits that can be changed depending on what you want to do with the power tool. You can alter between grinding, scraping, sanding, polishing, and even making cuts.
This is amazing and all of these bits are provided to the user by default.
In case you want to purchase extra accessories, you can easily do this by visiting the official website for DeWalt. There are tons of other power tools available along with the oscillating tool that you can purchase.
Additionally, you should note that each of them will have high power on them while ensuring that the device is compact enough to move around without any issues. 
The only downside of this series is that its price can be higher when compared with other lineups. Although, the power delivered by these power tools easily justifies the high price tag.
Still, that doesn't mean that the XR is a bad tool. If you're skilled enough, it is not that hard to develop a decent enough response from the XR.
So, instead of always blaming your tools, you should think about spending a bit of time trying to improve your technique.
This time investment will leave you much better in the long run. You will not be disappointed with the final results, and the DeWalt XR is just as good as the Atomic model. Here are more details to help you out. 
DeWalt XR Oscillating Tool
The DeWalt XR Oscillating Tool is another popular tool that people have been purchasing all around the world. This falls under the XR lineup that is known for delivering high powers as well.
Although, the main feature of this series was that it used brushless motors. When comparing this model of an oscillating tool with the atomic series one, you will notice that both of these are quite similar.
The only difference that can be noticed between them is that the blade has a different color.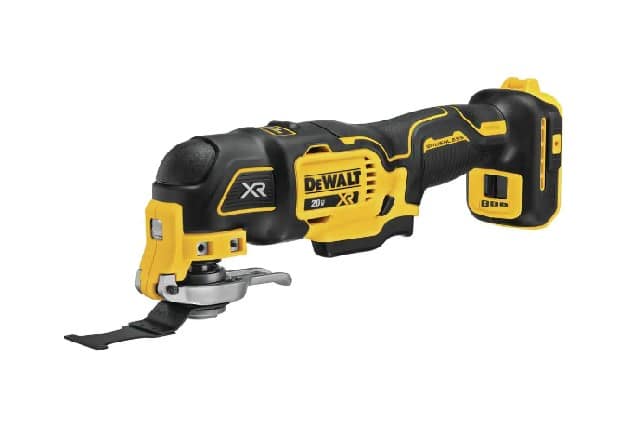 Other than this, the performance and power ratings on both devices look similar. This is because there is only a slight power rating difference between the two power tools. 
While the DeWalt XR Oscillating Tool has a higher RPM on it, when using the devices side-by-side, people report that the atomic series is still slightly faster.
Although, the difference is so small that it is barely noticeable. On the other hand, when you check the prices for these devices, the DeWalt XR Oscillating Tool is much cheaper. 
Considering this, if you are thinking about purchasing a single tool then the XR series will be a better option. The lineup also offers a much wider range of options that you can select from when purchasing other power tools.
However, the other products in this series are nowhere as powerful as the atomic series. The oscillating tool from the two series is an exception as it offers similar speeds no matter what lineup you decide to go with.
Keeping this in mind, when it comes to purchasing the tool, just make sure that you go through the prices carefully. You can then buy it depending on which one you get a better price for.
Still confused? Well, your next mode of action should be to contact the dealer or the official support members.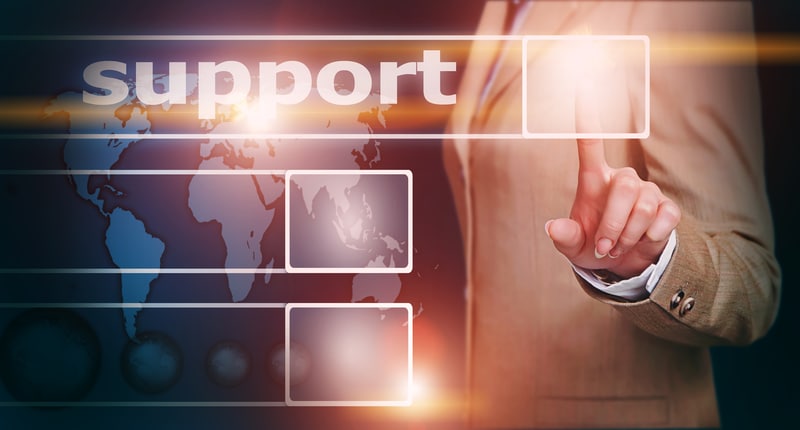 DeWalt is one of the top brands when it comes to tools. You will find the support channel to be filled with experts that maintain years of professional experience.
So, there is no point in going through all of this hassle to find the right system. Instead, you need to engage the official support team and then list your requirements. From there, the officials will take charge of that situation and will guide you towards a better fit.
It will not take you as much time when there is an expert involved in the purchase decision. So, be sure to reach out and have the expert help you. He will be more than happy to make your life easier.
Wrapping Up
The general rule of thumb is that you should go with the cheaper option when you can't find many differences between the two devices or models.
This rule is totally valid for this situation as well, and you will find the DeWalt XR oscillating tool to be a pretty close copy to the Atomic.
While you will find some owners claiming that the XR is better or the Atomic is better, in reality, there are no major differences which will put one unit ahead of the other.
It all boils down to the technique and the skill of the workman. So, you should focus more on improving your skills. 
With that out of the way, we will always nudge people towards the Atomic when they are not planning on putting more pressure on the unit and just want a small sized oscillating tool. So, be sure to rely on this option and you will be sorted out perfectly.
On the other hand, if you're aiming for a moderately sized system, going with the XR is a better idea.
So, before you finalize the purchase, just ask yourself about what type of system you're personally aiming for. That will help you narrow down your options with ease.