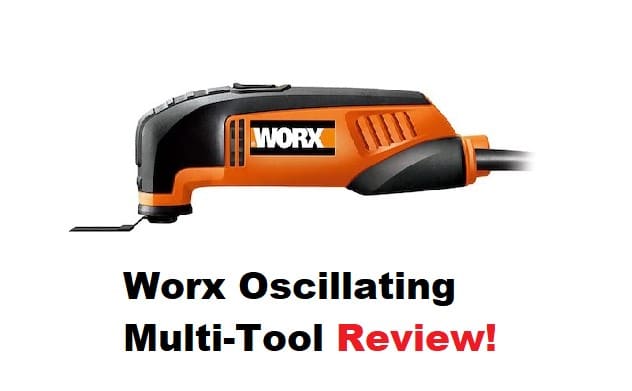 Oscillating multi-tools are devices that are equipped with a wide range of functions. The tools can be used for sanding, grinding, polishing, as well as cutting. Depending on the brand that you decide to get your power tool from, the features can be a lot more than this. The way this is done is by making the tool compatible with different bits. You can swap these out depending on your task and then complete an entirely different project using it.
People should understand that these devices are versatile but there are also tons of issues that they can run into with them. Recently, tons of users have been asking if the Worx oscillating multi-tool is worth their use or not. If you are also wondering the same thing then going through this article should help you in deciding. This is because we will be providing you with a detailed review of the Worx oscillating multi-tool that should help you in understanding all of its features.
Worx Oscillating Multi Tool Review:
The oscillating multi-tool from Worx is a famous device that is equipped with tons of features. The first thing that should be noted is that the tool is powered up using lithium-ion batteries. These are mostly known for their fast-charging time which usually ranges from about 15 to 20 minutes. This can be remarkable as you can start using your tool after charging the batteries. Though, the main problem with lithium-ion batteries is their short battery life. These can easily die within an hour if the tool is kept constantly running on its highest power rating.
This can be quite annoying as you have to charge the batteries again before using the tool. However, there is an easy way around this issue as you can also keep multiple batteries with you. The solution sounds even better when you notice that the kit for this oscillating tool includes a storage bag that you can keep your power tool in. This has enough space to store the additional batteries as well that can be swapped out once one of the previous ones dies out. You should note that the kit also comes with several bit head attachments that can be used on the oscillating tool.
These ensure that you can work on different types of materials as long as the correct bit is equipped. If you are having trouble trying to decide which bit should be installed, then go through the manual provided along the tool. This contains all the information required to understand what bits should be selected as well as how the features on the tool can be configured. Talking about this, people should note that the power tool also has the feature to switch its speed settings. These can be selected depending on the bit you have installed as well as the type of material you are working with.
When changing the blade on your power tool, users have to use a wrench. This can be a little annoying, but the tool is provided along the device so that you don't have to purchase it separately. As long as you keep this stored with you, the blades can be swapped out within seconds. If you ever notice that the blade chuck is locked in place, then applying additional force should unlock it. Though, if it is still not opening then simply lubricate the chuck system. Keep in mind that lubricating the motor is another good option as it helps the oscillating tool is running a long time while avoiding issues.
Finally, the handles on the power tool are equipped with rubber grips that allow for better handling. These combined with the compact design of the tool ensure that it remains stable while you are working on your projects. This can be amazing as it helps in making errors when using the multi-tool device. The power tool also comes with a warranty service that lasts about 3 years.
This can be used for free repairs or replacements in case the oscillating tool starts running into issues. Just makes sure that you go through the warranty guidelines beforehand to ensure there are no problems later on. You can also contact the support team for this brand to help you out. The team can answer any questions you have in mind regarding their tools.